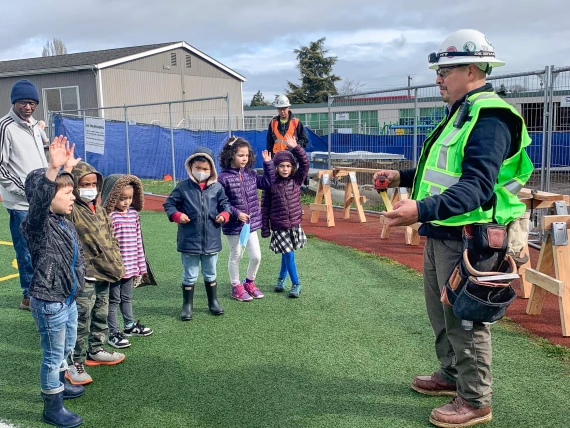 Serving Our Communities
We pursue every opportunity available to give back to the communities that we serve. We're passionate about creating opportunities for students, families, school faculties, local and minority businesses, and communities as a whole.
Whether that be learning opportunities for students to understand each stage of construction while we're building their new school, mentoring minority or women-owned businesses through an upcoming bid or sponsoring causes that further our commitment to giving. We take pride in being a trusted community partner.
At Cornerstone we believe our service doesn't end at the close of each project. We look for ways to connect with students, families, community members, local businesses and craft workers alongside project stakeholders to deliver beyond expectation.

Diversity, Equity, & Inclusion
We recognize that the construction industry relies on creativity and problem-solving that can only be fostered through a diverse and inclusive team. At Cornerstone, we have a commitment to promote and encourage diversity, equity and inclusion both in the office and in the field.
Learn More

Subcontractors
We highly value our relationships with our subcontractors and suppliers. We pride ourselves in creating and maintaining strong connections with a broad range of partners in the Greater Puget Sound. Our honest approach and reputation for executing with excellence has made Cornerstone a preferred partner for many local subcontractors and suppliers.
View Jobs

Careers
We are always looking for new team members who are eager to expand their careers. As a company, we value growth, grit and excellence. Most importantly, we invest in our team like our own family and are committed to making a positive impact in the communities we serve.
Explore Career Opportunities